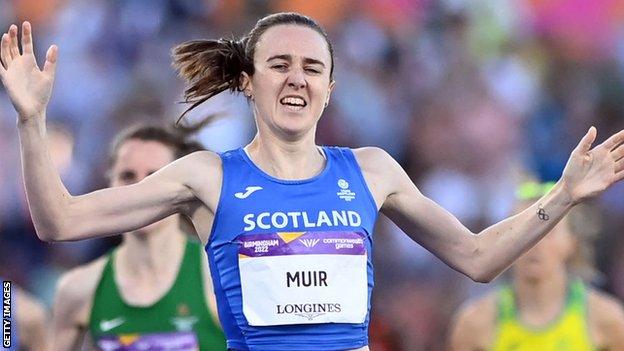 Hosts:
Birmingham
dates:
July 28 to August 8
Coverage:
Watch live on BBC TV with additional streams on BBC iPlayer, Red Button, BBC Sport website and BBC Sport mobile app; Listen on BBC Radio 5 Live and Sports Extra; live text and clips online.
Scottish Laura Muir won the Commonwealth 1500m crown with a relentless spectacle that pulverized her rivals to dust in her wake.
The 29-year-old finished the pressure with 500m to go and, despite the best efforts of Northern Ireland's Ciara Mageean, no one could live with her.
Muir finished 2.76 seconds in four minutes to add to her 800m bronze and win Scotland's 12th title of the Games.
Mageean took silver for Australia's Abbey Caldwell.
Jemma Reekie, Muir's training partner, friend and once housemate, finished fifth but was the first to congratulate her teammate on her win.
Victory caps off an excellent 12 months for Muir.
A year and a day ago, she took Olympic silver in Tokyo after a succession of near misses on the podium in grand finals.
Last month she took bronze at the World Championships in Eugene.
Just yesterday she finished third in a brawl of an 800 meter final.
But Commonwealth gold clears up a certain itch – Muir missed Gold Coast 2018 to take her veterinary exams and finished 11th in Glasgow 2014 after being cut in the final.
"You will learn from it and your time will come," she told BBC Sport.
"It sounds cheesy, but it's true. Eight years of Commonwealths and it's bothering me, so this means a lot."
Muir's year isn't over yet. The third peak of an epic campaign is just over a week away.
In Munich she will try to defend the European title she won in Berlin four years ago.
Scotland's gold medals at these Commonwealth Games now surpass their total at every Games with the exception of Glasgow 2014.
Pattison wins 800m bronze to underline potential
In the 800m final that followed Muir's victory at Alexander Stadium, England's Ben Pattison underlined his potential by taking bronze in a premier field.
The 20-year-old finished third in 1:48.25, while Kenyan Wycliffe Kinyamal defended his title under pressure from Australian Peter Bol.
Max Burgin, another English prospect and the fastest man in the world this year, missed the Commonwealth and World Championship after suffering a deep vein thrombosis on his way to Oregon.